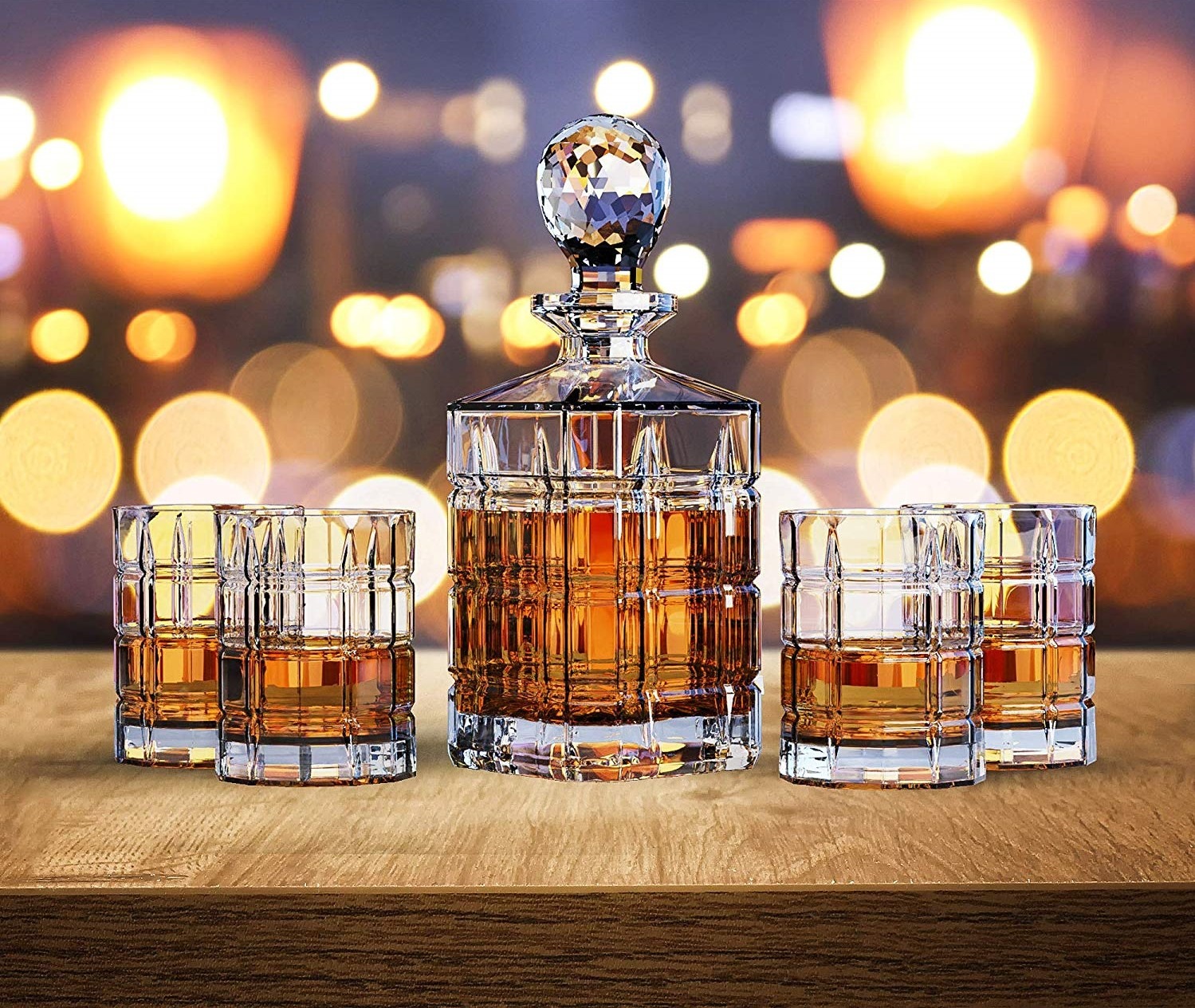 You probably have seen it in the movies – a respectable-looking guy wearing a classic suit gets himself a glass of whiskey from a sparkling decanter in his home bar. Then, he sits on the couch, thinking deeply about whether or not he has made the right business decision. We might not know this for sure, but how about that decanter? Is it a good investment for whiskey lovers?
Find out the answer later as we define what exactly a decanter is all about. 
What is a decanter?
A decanter showcases whiskey and other alcoholic drinks in a distinctively grand manner. While some may consider it too posh or luxurious, it actually protects your liquor's taste and longevity and makes it appear delightful and inviting. 
But more than just aesthetics, it helps separate the beverage from sediments that might have settled in its original bottle. What's more, it allows the liquor to breathe, stimulating oxidation and releasing more aroma in certain alcoholic drinks such as wines.
Typically crafted from top-quality glass or crystal, a decanter works great with your choice of wine, Scotch, or bourbon coming from your favorite brands such as Johnnie Walker, Dewars, Knob Creek, Jack Daniels, Koval, and the list goes on.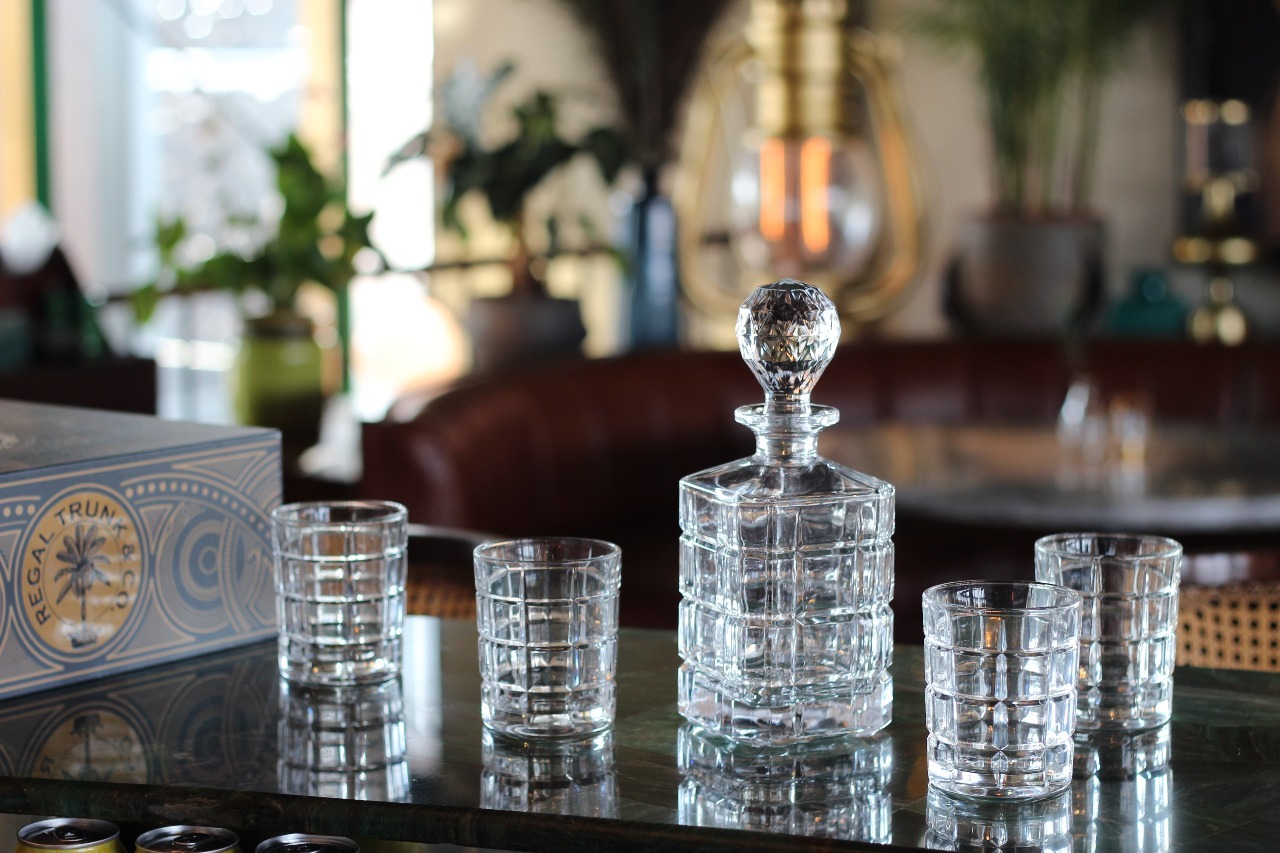 Why put whiskey in a decanter?
These days, decanters have dramatically grown in popularity, not only to the well-known and wealthy but also to regular whiskey enthusiasts. If you've been thinking of buying one, but still can't arrive at a decision, here are a few more reasons for you to really go ahead and purchase one:
Have your guests evaluate the whiskey by taste rather than by brand.

The thing about alcohol lovers these days is that they tend to judge by brand, even without tasting the liquor itself. Little did they know that sometimes, cheap brands can actually taste better than expensive ones. That said, try offering a decanted and unlabeled liquor the next time your friends are coming over. Make this as your own little social experiment and see the results. For sure, this will spark a few minutes of good conversation!
Preserve your Scotch for later consumption.

Like other beverages, Scotch doesn't last a lifetime. As soon as you open the bottle, oxygen can pass right through and stimulate the oxidation process, reducing the flavor and aroma of your favorite drink in the long run. The more air that gets in, the faster the oxidation. A decanter can help extend the life of your Scotch or other spirits by minimizing the air that gets through the container.
Blend your own concoction.

If you are someone who loves to mix drinks together, you might have tried blending whiskey with other beverages. Once they start looking and tasting good, you're left with one problem – storing your masterpiece. Investing in a high-quality decanter solves this problem. It's a perfect vessel for combined liquors, allowing you to create your own unique blend that you can share with your friends and family.
Serve your drinks beautifully, without zeroing your inventory.

As an avid drinker, you know that drinks are better when shared. However, there are times that guests seem to have an unquenchable thirst and you end up with nothing left. Quick tip: keep your bottles hidden and let the decanter be your server when guests arrive. It's a fantastic way to control your stocks and still remain cordial at the same time. In reality, it's more acceptable to point an empty decanter than ask your guests to stop emptying out bottles because they are low in stock.
Again, it offers an extremely appealing way to store or serve booze. 

Decanters have always been in homes for centuries for a good reason. If you are serious about whiskey storage, there are seriously stunning

whiskey decanter sets

sold in the market. Have a mini bar at home? Make it even more perfect by adding a dazzling decanter as the final piece. 
What makes a good decanter?
When buying a decanter, there are three essential things to pay close attention to in order to find the finest one. The first one is the cover's seal. It's critical to pick one that's airtight and doesn't let air enter or escape. A decanter with a good seal lets you enjoy liquor like it came fresh out of the bottle every time. 
The next factor to consider is capacity. It's ideal to select one that's big enough to contain your usual stocks. Generally, spirits come in 750 mL bottles, so keep that in mind when narrowing down your choices. However, if you're the pour-it-all-in type, you can choose a decanter of any size. 
You also want to make sure the glass or crystal material is lead-free. Not all decanter brands today are totally free of lead content, so it always pays to make sure. In case you don't know yet, leaded crystals can be quite toxic and dangerous to your health once they get into the whiskey itself.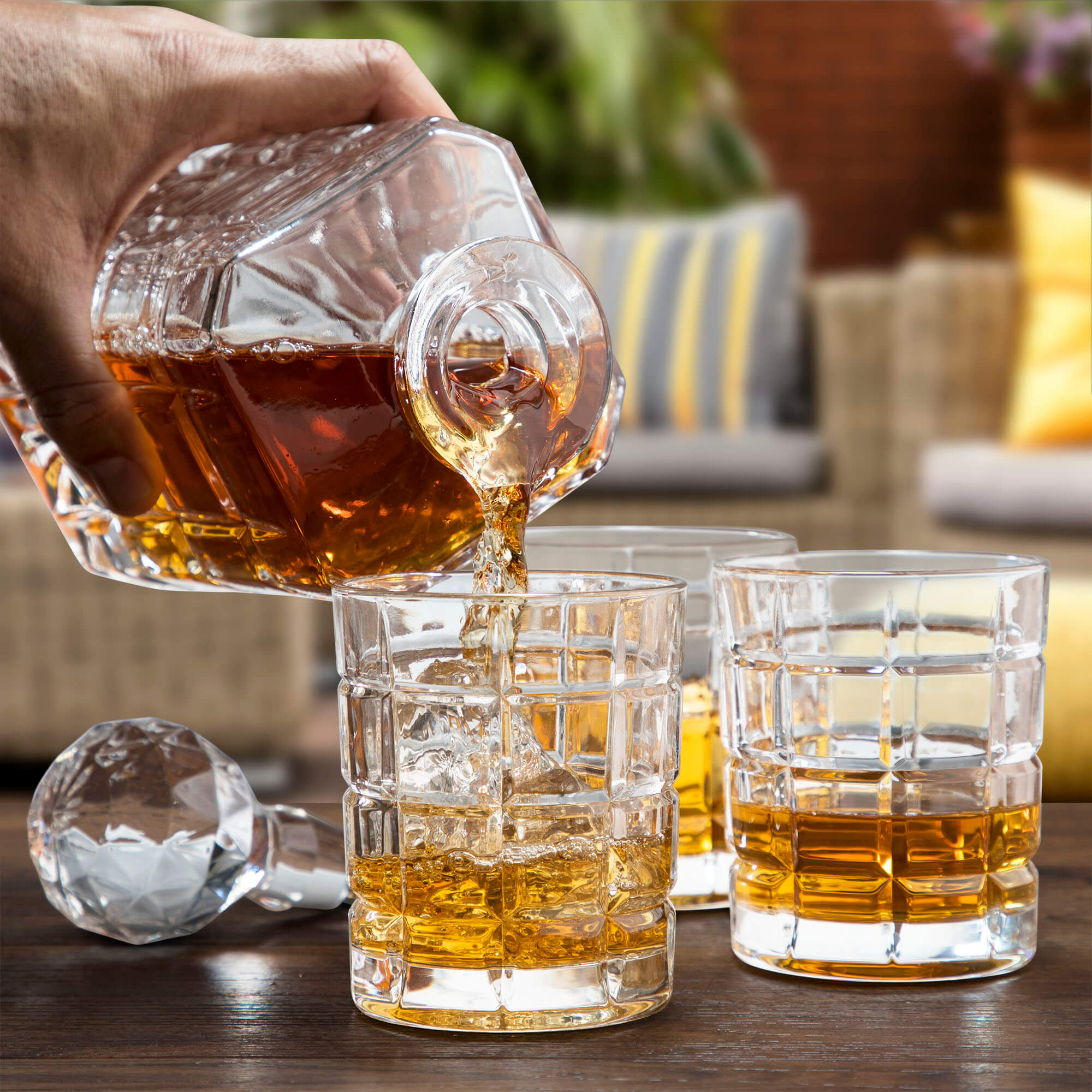 While you're at it, ensure that you choose only a decanter with premium craftsmanship. Select one that has optimal clarity, balance, thickness, and etching that best complement your choice of whiskey. Some of the most popular designs to choose from are Bold Square Engraved and Classic Diamond Cut. It's also essential to confirm if the container is chip-resistant and has a money-back guarantee to protect yourself from possible manufacturing issues.
Indeed, decanters are a must-have and perfect addition to your home bar and liquor essentials. If you're expecting friends often or planning a special event for your VIP guests, owning a decanter or a whiskey decanter set will surely make the cut. 
Since they look really enticing, they also make great accents to your living room, especially when paired with gorgeous whiskey glasses. For holidays or special occasions, they can be perfect presents for your husband, father, grandfather, or just about someone who's fond of sipping or serving spirits and take it to the next level. So, if you're in the lookout for a special gift that a man would really like, consider adding a whiskey decanter to your cart.